An excellent tool for handling quickly expanding and growing data is to create a Personal Learning Network (PLN).
Green, 2020
Personal Learning Networks
Personal Learning Networks are "informal networks connecting people and organizations that allow for individualized learning and engagement in personal and professional development" (Haas et al., 2020). Through PLN's, educators can: (1) find resources, (2) share resources and ideas, (3) get support, (4) make connections locally and internationally, (5) have a consistent influx of new ideas, (6) collaborate with other educators, and (7) keep up with the latest trends in education (TeachThought, 2022).

Personal and professional learning networks connect individuals with similar interests and goals. People can use PLN's to collaborate, share information, learn from each other, problem solve, and help others achieve their goals. The resource availability in PLN's is much greater than what one can obtain from one person or from a small group. These communities are large and powerful.

You have the power to create your own personal learning network based on your own needs. This allows you for fast access to massive amounts of information and a breadth of knowledge from experts around the globe. Everyone's PLN will look different based on their individual interests and goals within their personal and professional life.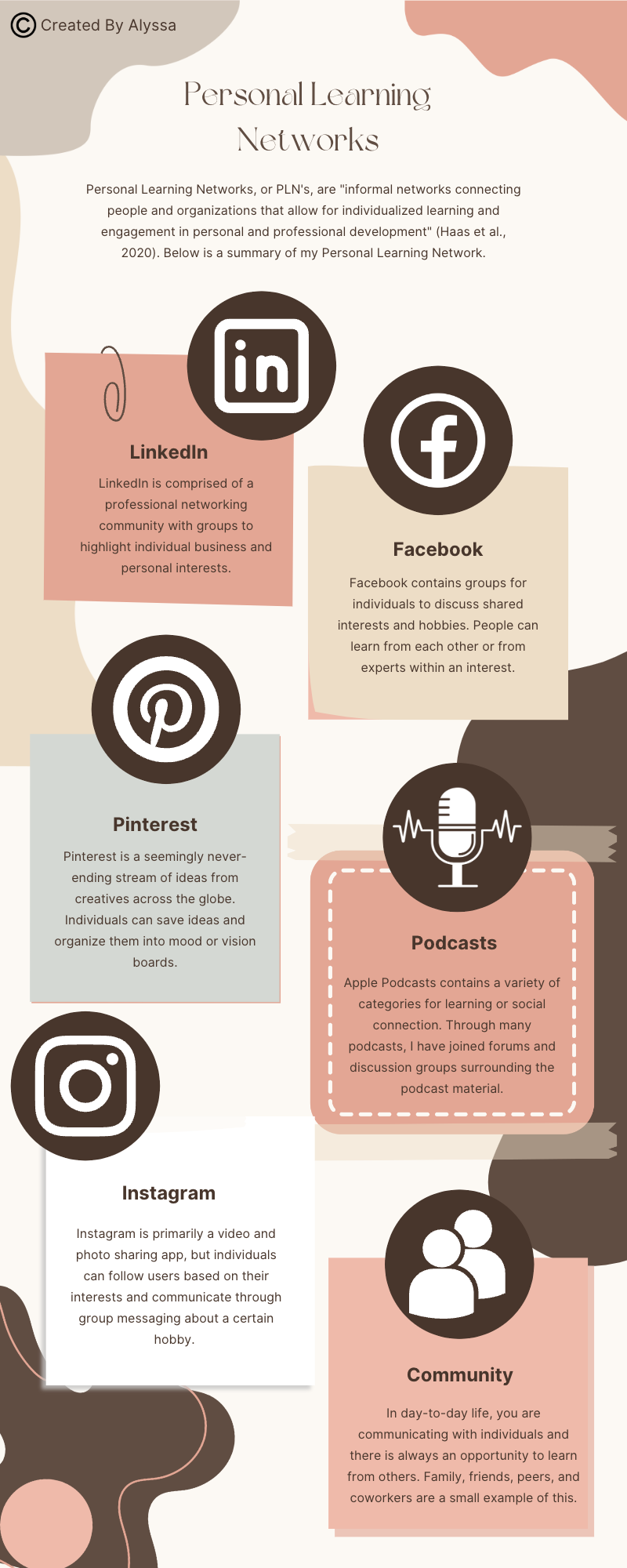 You can find my personal learning network in the infographic embedded above.
References
Green, C. L. (2020, August 28).
Personal learning networks: Defining and building a PLN
. Learning in the Digital Age. https://open.library.okstate.edu/learninginthedigitalage/chapter/personal-learning-networks_defining-and-building-a-pln/
Haas, M. R., Haley, K., Nagappan, B. S., Ankel, F., Swaminathan, A., & Santen, S. A. (2020). The connected educator: personal learning networks.
Clinical Teacher
,
17
(4), 373–377.
https://doi.org/10.1111/tct.13146
TeachThought. (2022, October 16).
10 reasons every teacher needs a Professional Learning Network
. TeachThought.
https://www.teachthought.com/pedagogy/why-every-teacher-needs-a-professional-learning-network/